Sollicito in the Anthology Lashings of Sauce

From marriages to reunions, via practical jokes and football matches, to weresloths (mine!) and possibly the oddest Tarts and Vicars party in the world, join us as we celebrate the 2012 UK Meet in the best way we know: telling the story.

Bloody Mathematicians in the Anthology Tea and Crumpet Including a wide range of style and subject, this is the perfect way to sample different authors and to find both existing and new favourites. Follow the British way of life from historic villages to modern cities, from the countryside to the sea, through history and with a fantasy twist, in gardens, churches, campus and the familiar, much-loved local pub.

The stories cover universal themes of romance, desire, remembrance and reconciliation. The authors range from multi-published to up-and-coming, and they all share a passion for their characters, whether through great drama, erotic excitement, humour -- or a combination of all three!

Commission and Omission in the Free anthology British Flash

Enjoy this entertaining collection of flash fiction stories, each one a short but sweet expression of what it means to be queer in Britain, past and present. All these stories reflect the iconic sights and national character of the British Isles: a taste of our idiosyncrasies and eccentricities, but also an unashamed representation of the love, loyalty and laughter of our people.

Sand in the anthology Last Gasp (e-book and print) from Noble Romance
"Safe upon solid rock the ugly houses stand: Come and see my shining palace built upon the sand."
People come to Syria for many reasons; tourism, archaeology, or because they need to leave Edwardian England to escape potential disgrace. Andrew Parks is one of those, burying past heartache and scandal among the tombs.
Charles Cusiter has travelled here as well, as chaperone to a friend whose fondness for the opposite sex gets him into too much trouble at home. Out in the desert there aren't any women to turn Bernard's head – just the ubiquitous sand.
The desert works its magic on Charles, softening his heart and drawing him towards Andrew. Not even a potentially fatal scorpion sting can overcome the power this strange land exerts.
All That Jazz, part of the trilogy Encore Encore from MLR. and as a standalone e-book
Francis Yardley, the high kicking star of an all-male version of Chicago, feels like the chance for true love has passed him by. Meeting a shy but handsome rugby player gives him the hope that there's still happiness to be found 'nowadays'.
'Aftermath', part of the trilogy Speak Its Name by Cheyenne Publishing. Available in e-book at Amazon and AllRomance ebooks and in print at Barnes and Noble, Amazon and Amazon UK.
When shy Edward Easterby first sees the popular Hugo Lamont, he's both envious of the man's social skills and ashamed of finding him so attractive. But two awful secrets weigh Lamont down. One is that he fancies Easterby, at a time when the expression of such desires is strictly illegal. The second is that an earlier, disastrous encounter with a young gigolo has left him unwilling to enter into a relationship with anyone. Hugo feels torn apart by the conflict between what he wants and what he feels is "right". Will Edward find that time and patience are enough to change Hugo's mind?
'The Uneven Chance' part of the anthology 'I Do Two'
Available from MLR
'The Roaming Heart', part of the anthology 'I Do'.
Available as an ebook from All Romance e-books or in paperback at Barnes and Noble, Amazon, Blackwell's,etc.
Alasdair Hamilton, Toby Bowe and Fiona Marsden are the hottest properties in post-war English film. Shame that Fiona believes what she reads in the gossip columns...
"Particular favorites of mine were The Roaming Heart by Charlie Cochrane (m/m), a historical about two British actors who were witty and delightful to read." Review
'Wolves of the West', part of the anthology Queer Wolf, available from Queered Fiction.
"Although I've read Charlie Cochrane's work before, I was, and I think other readers will be, wonderfully suprised. Not only by this author's approach to a different genre, but by how sly her sense of humour is and how this comes through her writing." Reviews by Jessewave
'The Shade on a Fine Day' from the Anthology Past Shadows from MLR
Eight for dinner at the Canon's table means the potential arrival of a ghost. But what message will he bring and which of the young men aroundthe table is it for?
Home Fires Burning (a pair of historical novellas in e-book and print)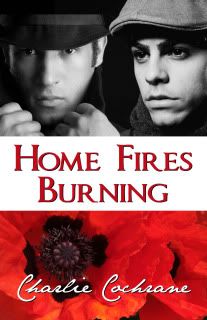 From Cheyenne.
This Ground Which Was Secured At Great Expense:
It is 1914 and The Great War is underway. When the call to arms comes, Nicholas Southwell won't be found hanging back. It's a pity he can't be so decisive when it comes to letting his estate manager Paul Haskell know what he feels before he has to leave for the front line. In the trenches Nicholas meets a fellow officer, Phillip Taylor, who takes him into the unclaimed territory of physical love. Which one will he choose, if he's allowed the choice?

The Case of the Overprotective Ass:
Stars of the silver screen Alasdair Hamilton and Toby Bowe are wowing the post WWII audiences with their depictions of Holmes and Watson. When they get asked in by a friend to investigate a mysterious disappearance they jump at the chance — surely detection can't be that hard? But a series of threatening letters — and an unwanted suitor — make real life very different from the movies.
Bloody Mathematicians in the anthology Tea and Crumpet (e-book and print) from JMS books